Get away from the main heart of Myanmar, the Burmese city of Yangon and get yourselves enthralled to the mind-boggling structure of the Maelamu Pagoda which is renowned for its magnificent spire-topped structure, large statues as well as fascinating figures and statues. This off beaten sites is beautifully nestled in a nearby town called North Okkalapa which is reached through a 20 –minute drive from Yangon.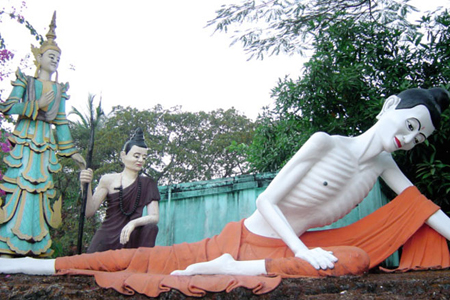 Featuring a number of enormous images which depict the early life of the latest Buddha, this religious site is one of the must-go spots in day trips from Yangon for those who are into discovering the stories of Buddha and enjoying taking a worry-free meander in a tranquil environment
Maelamu Pagoda Attractions 
Apart from immersing in the tranquil and sacred atmosphere, visitors could get chances to admire numerous fascinating figures and statues, including a large lizard that you could head into its stomach!
The name Maelamu roughly translates in English as the Maid of the Mangrove. The name of this sacred site is clouded by tales and legends. It is said that a long time ago a hermit came upon a mangrove tree bearing an abnormally large bud. He took the bud and later the bud produced a little girl. The child was brought up by the hermit who named her Maelamu after the Mangrove tree. Upon growing up she turned into a very charming young girl whom one of the divine entities fell in love and later married. They gave a childbirth, and then the son went on to become the King of Okkalapa. This child was the same person who built the magnificent Shwedagon Pagoda to house some holy relics of the Buddha.
The structure of this pagoda is a harmonious combination of the pagoda's design, the mangrove tree as well as fragrant flowers.
There is also a figure of a crocodile with wide-open jaws. The Maelamu Pagoda had a legendary association with another tragic story. The legendary crocodile played an important role in a tragic romance between a prince of Yangon and a princess of Dalla on the other side of the Yangon river. Legend has it that a crocodile carried the prince in its jaws to carry him across the river to meet his beloved princess of Della who lived on the other side. It is considered a great legend for lovers. Therefore, the figure of the crocodile shows an important image for this pagoda.
Maelamu Pagoda Travel Tips
Opening Hours – 6 am to 8 pm. Close on gazette holidays.
Admission Fees – US$2 per person
Location – Mae Lamu Pagoda is located in a suburban town. North Okkalapa