Endowed with a blend combination of traditional and modern style elements executed by modern artists and artisans, Maha Wizaya is authentically a stunning witness which testifies the preservation of Myanmar's natural culture. This sacred site is one among most visited attractions in Yangon and seizes the attention of a countless number of local worshippers, especially on the Myanmar New Year day.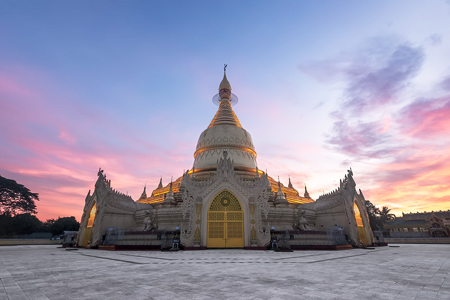 On paper, the Maha Wizaya Pagoda is beautifully located on Shwedagon Pagoda Road in Dagon Township, Yangon, Myanmar. The history of the pagoda could be traced back to 1980. This structure is mounted immediately south of the Shwedagon Pagoda on Dhammarakhita Hill. The enshrined relics were contributed by the King of Nepal, while the pagoda's hti (umbrella) was consecrated by Ne Win, the country's former leader. The construction of this particular pagoda is believed by some scholars to have been a form of merit-making on the part of Ne Win. The enshrined relics were contributed by the king of Nepal and General Ne Win had it topped with an 11-level hti (umbrella) – two more levels than the hti at Shwedagon.
The well-proportioned site is a hollow stupa containing Buddhist relics; its inside is endowed with a decorative forest of fake trees and a beautiful blue dome showing star constellations.
The construction of this elegant structure in 1980 was to mark the unification of Theravada Buddhism in Myanmar. This event saw a noticeable breakthrough as the State Sangha Maha Nayaka Committee, a governmental regulatory body of Buddhist monks was formed.
Maha Wizaya Travel Tips
Opening Hours – 4 am to 10 pm daily
Admission Fees – 200 kyats per person
Maha Wizaya Nearby Attractions
Kandawgyi Nature Park or Kandawgyi Garden
This Garden is another must-see attraction in Yangon tour packages which situated on the Eastern stairways of Shwedagon Pagoda. Kandawgyi Nature Park attracts a number of dwellers of Yangon and has become an ideal escaping spot for the local.
Karaweik Palace
The Karaweik Palace is located in the Kandawgyi Garden near Shwedagon Pagoda. Karaweik is a name of a Golden Mythical Bird in Myanmar legends.