Ngar Htat Kyi (or) the five-storey Buddha Image is a sitting Buddha image which is housed in Ngar Htat Gyi Pagoda situated on Shwe Gon Taing Road, Tamwe Township just across the Chauk Htat Kyi Pagoda. The Ngar Htat Gyi Buddha Image is mounted across the Chauk Hta Kyi Buddha Image.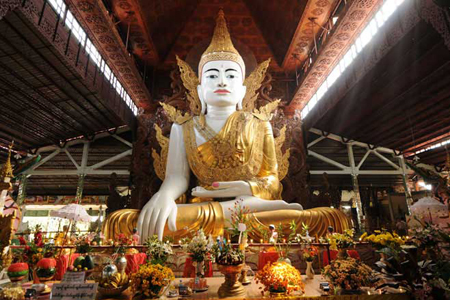 This giant seated Buddha image is one of the most impressive relics to admire in day tours Yangon. It placed in a pavilion of iron structure with a five-tiered CGI roof of Ashay Tawya Monastery. In the local language, Nga-Htat-Gyi Pagoda means the pagoda with the five-layered roof. Noticeably, the style of using Magite (armours) around the image sets this Buddha image apart from other figures.
Originally, Nga Htat Kyi Buddha Image which measured 20.5 feet was donated by Prince Minyedeippa in 1558. It was then relocated here when a great image having a height of 45.5 feet on a pedestal 30 feet (9.1m) high and 46 feet (13.9m) wide was erected on this piece of high ground in 1900.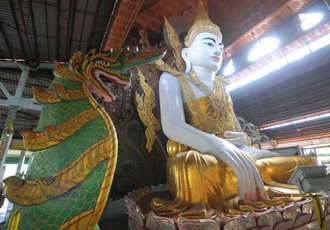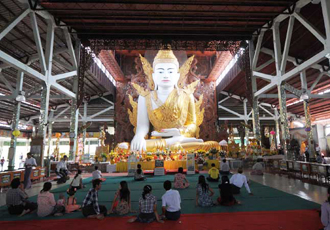 Located within a monastery complex located in Shwegonedaing ward of Bahan Township, Nga Htat Kyi Buddha Image can be reached conveniently from the road encircling the Royal Lakes by turning into a lane bearing its name. A shorter route is by following the Shwegondaing road connecting the Bahan and Tamwe townships right up to the rear entrance of the Pagoda.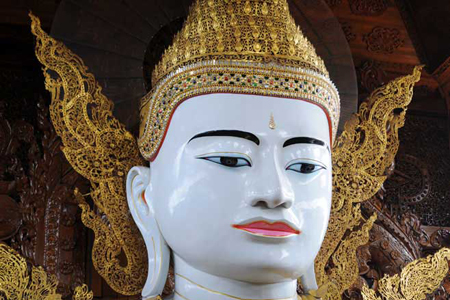 The dimensions pertaining to this great image are as follow:
(a) circumference at the hair knot – 19.5 feet (5.9m)
(b) circumference of the frontlet – 20 feet (6.08m)
(c) distance between the cornersof each eye over – 3 feet (1m)
(d) pinna of the ear – 6 feet (1.82m)
(e) length of the nose – 3 feet 6 inches (1.06m)
(f) circumference of the throat – 20 feet (6.08m)
(g) breadth of the shoulders – 24 feet (7.3m)
(h) girth of the arms – 15feet 9 inches (4.79m)
(i) width between the extremities of the knees – 36 feet (10.9m)
(j) length of each palm – 10 feet (3.04m)
(k) length of each thumb – 4.5 feet (1.37m)
(1) length at the soles of feet – 10.5 feet (3.19m)
The great image, which was originally arrayed in monastic robes, has been invested with the regalia of kings such as a diadem, ear ornaments and jeweled sashes by devotees.