Myanmar holds many beautiful spots which no one knows that make those places remain the unspoiled traits and landscapes. Among them, one cannot be missed in your Myanmar vacation is Lover's Island – a sleeping islet, a small hummock on the coast of Ayeyarwady Region's Ngwe Saung Beach that would not disappoint you.
Origin of the name Lover's Island
According to the locals, the name Lover's Island is based on the mythology of star-crossed lovers expatriated from the mainland only to show off their affection among the lush foliage 500 meters from shore. However, Lover's Island is actually a name given for foreigners since foreign couples often visit this place to have a private space.
Although the name of this island does not tell the truth of any historical or biological facts, it is a splendid and charming destination in southern Myanmar for Ngwe Saung visitors. When the tide is out, parts of Bengal Bay reveals a passageway of sea-floor to Lover's Island.
What makes Lover's Island special?
Easily accessible from Ngwe Saung Beach
Located between the Ngwe Saung Yacht and Hotel Ace, besides the cunning name, this lovely hummock merits a visit from a Myanmar beach holiday. You can easily access it and its surrounding beach by motorbike, bicycle hired from hotels, resorts or even street-side lenders in Ngwe Saung Village. After a twenty-minute riding down Myo Ma Road, you will see one side is deluxe resorts and another is meadows with tall grasses, continue to find a restricted, unimpaired and unpaved dirt path. You will hear the sound of the ocean – the beachy melody that is the noise coming from schools of bright-colored fish wriggle their tails in deep-blue water and you know that you are close to the islet.
Wonderful scenery on the beach
Not too far from Lover's Island is a stamping-ground of local tourism – Ngwe Saung beach that has the length of 15 kilometers with the stretch of white sand sparkling beneath the sun. After traversing a shallow stream swarmed with algae, the beach is in front of you where you will see beachgoers who wear varied kinds of fashion from speedos (swimwear brand of Australia) to burqas (an enveloping outer garment worn by women in some Islamic traditions) to longyis (a sheet of cloth widely worn in Burma) sitting under the big umbrellas. Young men laze away their time with four-wheelers fashion juice boxes and coconuts while older men decorate their horses with traditional fabrics and wait for their performance in "horse-back riding on the beach at sunset" fantasies.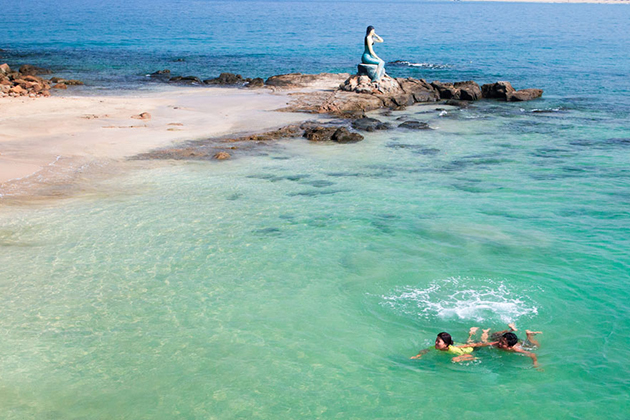 Interesting activities
In the middle of the island, there is a mermaid statue playing with her hair made from fiberglass; however, no one knows the origin and purpose of her. People seem to be very interested in taking a selfie with her. A few meters away lies a Buddha sculpture enwrapped by the glass and a small staircase from which you can contemplate the scenic view of the seashore. There is another set of bumpy stairs behind the Buddha statue which leads to a footpath surrounding the whole islet including a labyrinth-like forest of overgrown weeds, bush and low-hanging trees. The pathway breaks like a river guiding tourists to different corners of the island, remember to bring flip-flops or water shoes with you. If you have a sense of adventure, you can follow a different road, climbing the rough cliffs surrounding the islet and you need to bear in mind that they are keen and covered with thousands of tiny insects and crabs.
The island is not a site of religious or spiritual values but it will make you please with the evergreen beauty and rocky coastline. You can take a walk along the beach to contemplate the charming of nature, wallow in the deep-blue ocean to refresh your mind or take adventure travel to the cliffs leading to the dense forests.
How to get Lover's Island
You can book a bus from Yangon to Ngwe Saung through Golden Star or Asia Dragon, the journey will last 5-6 hour but be quite comfortable.
There are also buses from Yangon's Bogyoke Aung San Stadium with two different time slots, one leaves at 9 pm and arrives at 3 am and other leaves at 12 pm and arrives at 5 pm. If you decide to take an overnight bus, do not forget to book a half night or make arrangements with your hotel about the accommodations.
This romantic island is reserved for humble and dreamy hearts, for those who utterly love nature and simpleness. If you are taking pleasure in Ngwe Saung Beach, do not hesitate to spend your time visiting this sleeping islet for a while to discover new things in a new place and you will realize that sometimes, the happiness coming from the trivial and humble things.