Located at the Southwest of Mandalay, the Maha Myat Muni Pagoda one of the most famous attractions to visit in a day trip from Mandalay. It is famous for the seating Maha Myat Muni Buddha Image, the most revered Buddha image in Mandalay and the most ancient Buddha image in Myanmar. The locals also call the image the Phaya Gyi. The history of the image could be traced back to the life-span of Lord Buddha in the seated posture of relaxed deportment, namely Bumi Phasa Mudras, symbolic of His Conquest of Mara.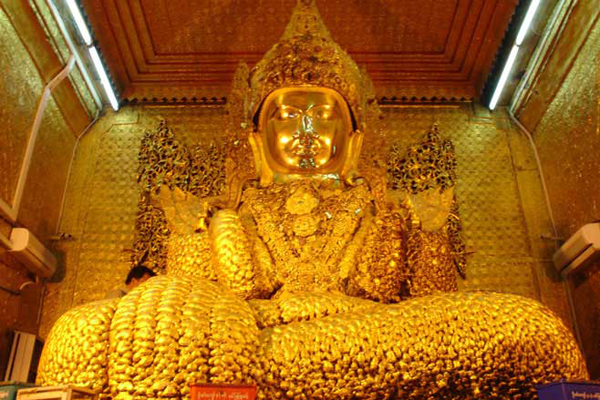 The seated bronze cast image measures 6.5 tons weight and 4 m height. Its crown was beautifully decorated with diamonds, rubies, and sapphires. Maha Myat Muni Buddha Image was being cast in front of the Buddha himself, therefore it can say Maha Myat Muni Buddha Image is the portrait of Buddha and the face is most revered. Every morning at 4:30 AM, the ritual of washing the face and brushing the teeth of Maha Muni Image is done by a team of monks.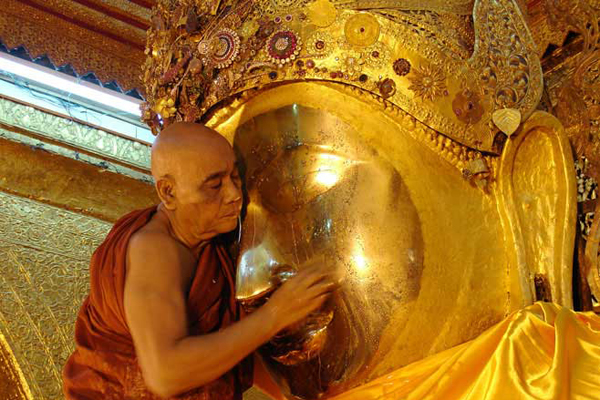 Since Myanmar Buddhists are so devout, as a result, countless thousands of devotees apply gold leaf to gain merit and the image has completely covered with 15 cm thick gold and original shape is distorted.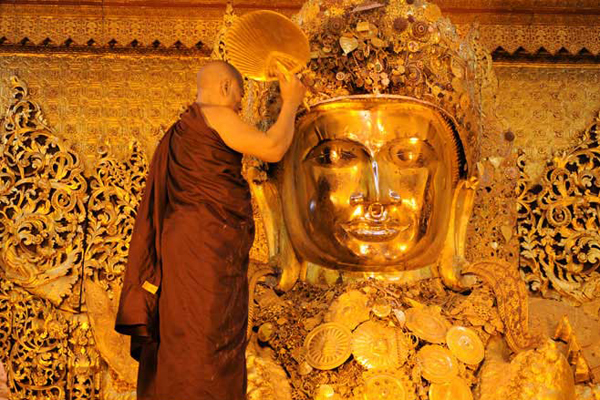 History of Maha Myat Muni Pagoda Image
In the year of B.C 123 under the reign of King Sanda Thuriya, Monarch of Rakhine-Dharyawaddy, the Image was removed reverently so as to enshrine it at the present site. Carrying this image is really a tough challenge as it took four months to relocate the image reverently across the Rakhine Yoma Ranges, by the inland route, and by waterway. The Maha Muni Buddha Image is 8 Cubits and 1 Maik (3.83m) in height and the altar is 2.13m high. Also, there are 2 bronze Siamese images, 3 bronze lion images, and 1 bronze three-headed Ayeyawun elephants housed and displayed in the precinct on the left side of the northern exit passage.
Maha Myat Muni Pagoda Travel Tips
To be able to catch up on the early morning ritual, one has to be at Maha Myat Muni Pagoda by about 5 am.
Opening Hours -6am-8pm every day
Entrance Fees – US$ 4