Bagan has a reputation for a number of amazing attractions, including the best-known Mount Popa. Once an extinct volcano, Mount Popa is widely known as the 'Mountain of Spirits', this is one of the most famous attractions in Bagan that worth you a visit to discover the important Nats worship of Burmese people.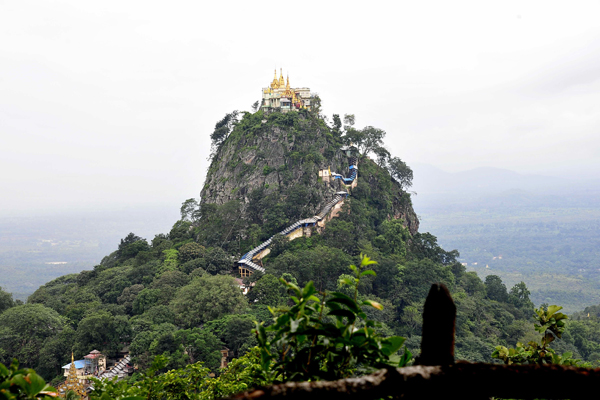 Surrounded by lush forest, it is here that the sacred Popa Taungkalat monastery can be found. Everyone, even local people do not know exactly how old the Mount Popa is, they just know that the volcano last erupted 250,000 years ago. The Popa Taungkalat becomes the home to 37 Mahagiri Nats. In order to get access to the peak, you are supposed to climb the 777-step path. If you are an adventurous lover, climbing Mount Popa would be an ultimate experience. However, as it is a long way, remember to bring along drinks and snacks in case you get thirsty and hungry. From its top, you can cast your eyes over beautiful surrounding landscape encompassing plunging valleys far distant river and the nearby 5-star luxurious Mt Popa resort.
For those who are planning a trip to Mount Popa in Burma vacations, you are advised to get there by bus or pickup truck – this can be considered the cheapest way to reach the destination. Amongst these two ways, the bus can be a better choice as the pickup truck often stops, so traveling by bus would be faster than the other. Alternatively, you can take a taxi ride, but it is a little expensive.