In general, Myanmar is safe for travel. Although there still certain parts of Myanmar is experiencing political turmoil, it is completely safe in the country's main attractions. According to a safe map from the UK Foreign Office, it is safe to visit the main tourist hubs of Mandalay, Yangon, Bagan, Inle Lake, Myeik Archipelago, Hsipaw, and many other places throughout the country without worrying about the violence or national conflict.
In all the areas where tourists are permitted to visit, Yangon is one of Asia's safest cities. It goes without saying that Myanmar is safe and serene in terms of personal security because of low incidents of crime against foreigners.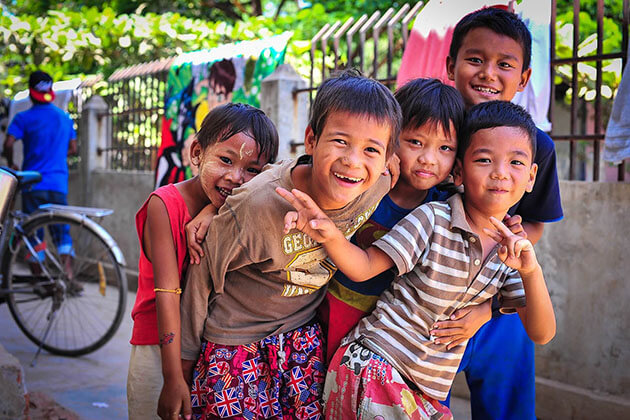 How Safe Is Myanmar?
After a long time being isolated, Myanmar is now open for visiting. Tourists are free to travel to all beautiful attractions of the country including Yangon – the largest and most vibrant city, the charming temple town of Bagan, the breathtaking natural Inle Lake, Mandalay – the hidden treasure, and Mon State, etc.
Although there are some no-go areas present throughout the country, the ratio of crime against tourists is super rare. About 90 % of people in Myanmar practice Buddhism. Likewise, Myanmar people are very friendly and helpful. No place in the tourist areas throughout the country would you witness the violence or conflict on the street.
Is Myanmar Safe for Family Travel
With a stable political situation and weather, Myanmar is completely safe for family travel. However, while traveling with kids, you should consider several factors as below:
The heat: Myanmar weather is relatively hot, so be careful while sightseeing and doing outdoor activities. Umbrella, sun cream, long-sleeves shirts, and water are important things to bring with you to protect your family's health. If you want to take a biking tour in Myanmar with your kids, the best time to cycle is in the early morning and late afternoon when the temperature is not too hot.
The water: Don't drink tap water in Myanmar as we are not sure whether it is safe enough or not. Instead, we highlight recommend you to drink a water bottle. Nevertheless, you are worry-free because the hotels and travel operators in Myanmar always provide you with free water bottles each day.
Traveling to Myanmar in monsoon season: You might be interested in the stunning beaches of Myanmar. However, beaches in Myanmar are closed during the monsoon season from July to the end of September.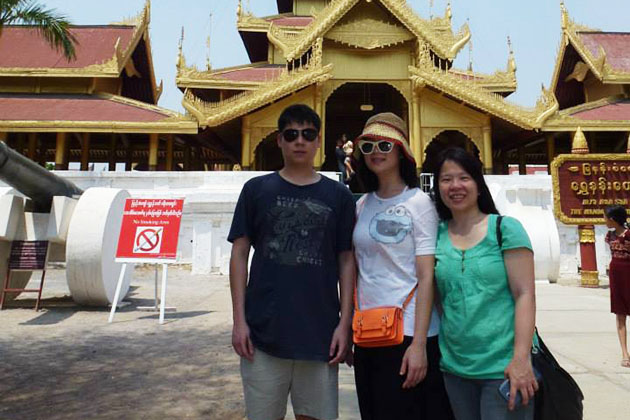 Is it Safe to visit Myanmar now?
Generally, the answer is YES. The large majority of Myanmar is safe for you to visit right now. However, if you want to take an adventure to the remote parts of the country, you should also consider and ask for advice before deciding to travel.
For instance, the northern parts of Shan State and Kachin State, Mogok and the Southern Chin State are becoming more and more appealing to tourists but sometimes totally off-limit due to the political situation.
Another place such as the town of Hsipaw in Shan State is good to travel in 2020 to discover the majestic waterfall, trek through the mesmerizing landscape and indulge in cultural diversity. However, when you want to travel to the area around it, be sure to contact a local Myanmar tour operator and ask your travel consultant in advance.
Safety Tips for Traveling in Myanmar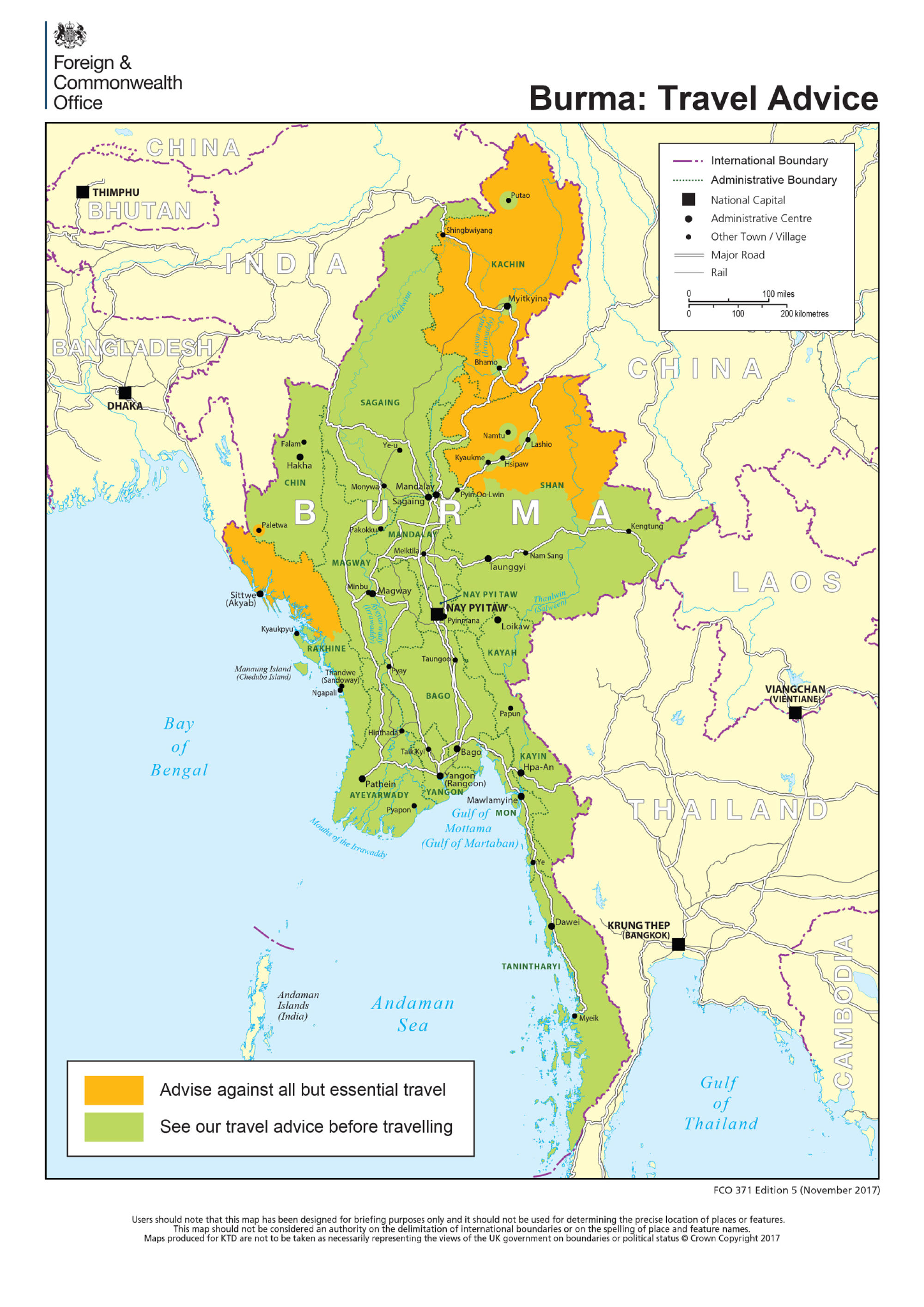 When it comes to politics, the conflicts are controlled and lessened by governmental policies. Travelers are recommended to respect religious and social/cultural traditions in Myanmar to avoid offending local sensitivities and breaking the law. Also, it is wise to avoid taking photographs of any protests, political demonstrations or government or military installations, because that could lead to arrest or detention. A limited number of legal land crossing points exist within Myanmar. Travel restrictions the Myanmar government placed apply to the border areas. It is advisable that visitors should not to cross any border illegally and access to restricted areas such as Buthidaung, Maungdaw, or Rathedaung townships in the north of Rakhine State.
With a tropical monsoon climate, Myanmar is safe to travel. From January to March, the climate in Yangon is warm with the average temperature of about 31°C and climate in Mandalay with the mean temperature is 27°C and in Bagan is 26°C. As a result, that weather is not inclement and it does not affect your health. It almost never rains between January and March; the flood scarcely happens. Thus, it is dry and safe for you to relax and enjoy your holidays.
The social situation in Myanmar is stable and safe during recent years for tourists to travel. In Myanmar, the country's strict penalties levies on criminals making the petty crime like pickpocketing and purse snatching rare. It is easy to see the presence of police with many stations having large signs in English "May I help you?". However, to maintain safety, you should not go alone outside after 9 pm because Myanmar is not a nightlife city, the recreational activities are not as exuberant as during the day. If necessary, go with your team or your partners are better.
The Burmese people are quite friendly and kind. They interact positively, and you will be greeted with hospitality and smiles. The reason for this custom is almost 90 percent of the population in Myanmar are Buddhists, so they practice Buddhist traditions at the community. The Buddhist community mainly focuses on caring for each other in the family and community in Burma's society. Hence, don't be afraid if they asked if you need anything else or share what they have from food, beverages. They also appreciate the opportunity to host you in their native customs. Additionally, because Burmese people understand that tourism plays an important role in the economy, they are always making an effort to make sure tourists are safe.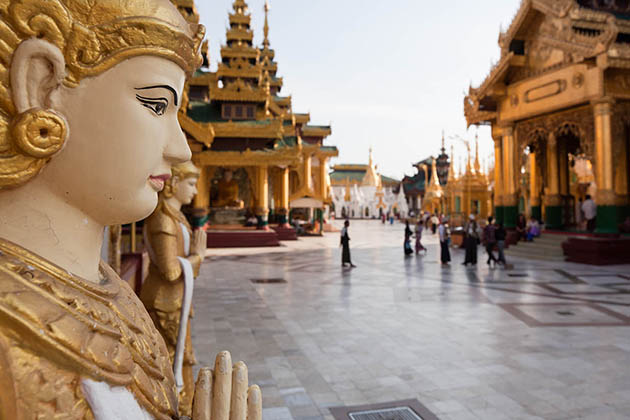 Regarding transportation, tourists visit Myanmar by air, land or sea is safe. Traveling by air is the most convenient and safest way to visit Myanmar, but choosing to drive from Myawaddy is not dangerous. Upon arrival at Yangon, it is safe for travelers to choose to take the water bus, train or bus.
Safety tips for traveling to Myanmar in 2020
Safe and hygienic food is often concerned when tourists visit Myanmar. Below are a few tips for ensuring food safety during your trip to Myanmar.
• Do not drink the water from the tap in Myanmar. ask for bottled water only.
• Do not eat" Bushmeat" (monkeys, bats, or other wild game)
• Do not feast on raw vegetables or unpeeled fruits, and uncooked food like meat, fish, and eggs
• Savor in the safe restaurants. Specifically, in Yangon, feast on Myanmar Cuisine on Padonmar Restaurant, Monsoon, Green Elephant. Besides, Multi-cuisine and tea salons – Acacia Tea Salon, Fuji Coffee House, Union Bar & Grill, 50th Street Grill & Bar.
• Wash your hand, it is quite simple and effective
• If you have a tattoo with a Buddha image, you should cover it up
• Do not swim and wade in a freshwater lake or river because it might unsafe as you won't know its depth.
• However, please remember that an amazing hot air balloon ride at sunrise is suitable and safe for children aged 8 and above only. If your child is under 8 years old, it will be not safe for boarding a hot air balloon.
• Wear long-sleeved shirts and long pants in Myanmar is useful for avoiding bug bites and is convenient to visit pagodas, temples and other relics monuments.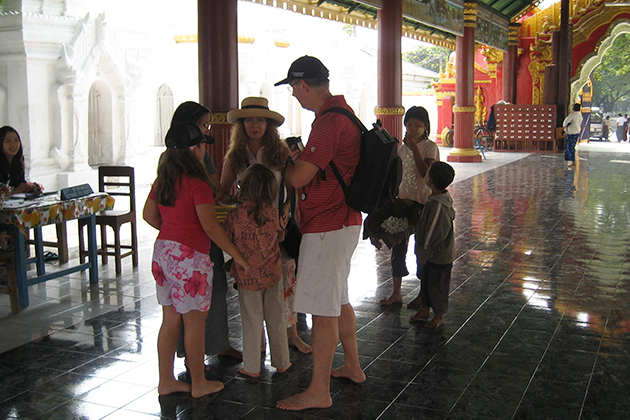 When planning your holiday, book with a reliable tour company
Maintain personal safety while traveling in Myanmar
• Preferably, choose hotel rooms from the 2nd to 6th floors.
• Do not wear expensive clothing or jewelry.
• Always lock hotel doors, and store valuable belongings in secure areas.
If you want to find a reliable local Myanmar tour operator, let us, Go Myanmar Tours, be your companion to the way to Burma. As local, we master every corner of the country to create the finest itinerary and a safe and sound journey for you. Let's contact us now and start planning your authentic and memorable vacation.