Among the religious monuments, the Shwemawdaw is one of the most venerated pagodas in Myanmar. Located in Bago, the beautiful town in Myanmar, Shwemawdaw pagoda is one of the interesting destinations to explore on a day trip from Yangon.
Shwemawdaw Pagoda History
According to plenty of traditional mentions, the original pagoda was built by two merchant brothers and they enshrined two sacred hairs bestowed upon them by Buddha during his lifetime. King Thamada and Wimala raised the height to 81 and 88 feet respectively in AD 825 and 840. Successive Kings Contributed to its renovation and enlargement. When Bodawphaya replaced a new "hti" (also known as the umbrella) in AD 1976, it attained a height of 297 feet. The height of the Shwemawdaw pagoda is now 375 feet and becomes the highest pagoda of Myanmar. From that afar, the pagoda looks like a huge golden bell growing brightly in the sun.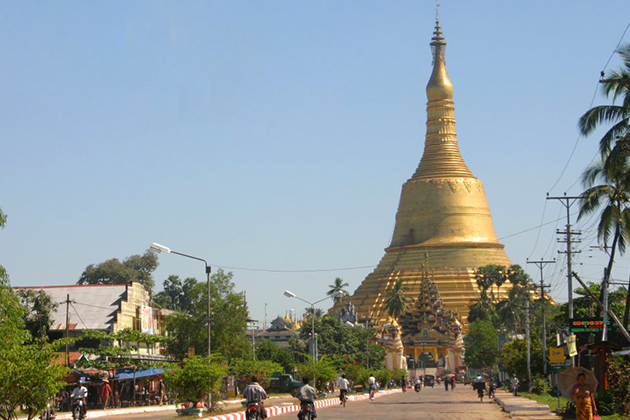 The temple began to rise as early as the 10th century but was destroyed several times due to earthquakes and many other disasters. Variations of earthquakes from the 20th, especially in 1917 and 1930 almost damaged the Shwemawdaw pagoda completely. The old broken spire still lies on the ground of the northeastern side of the pagoda today. After World War II, locals volunteered to restore and reconstruct the pagoda, and as a result, the structure nowadays grows taller yet again.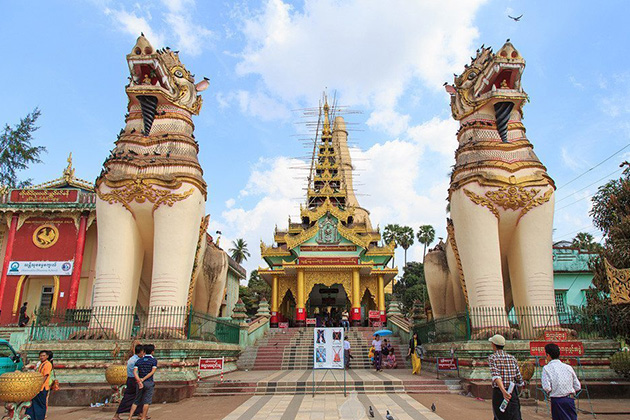 To access many Buddhist pagodas in Myanmar is guarded by a pair of big Chinthes, which are mythical lion-like creatures protecting the pagoda. Chinthes are revered and beloved through Burma, they are sometimes portrayed as half lion and half-human. Shwemawdaw pagoda is defended by the two chinthes that stand at the entrance of it and particularly impressive.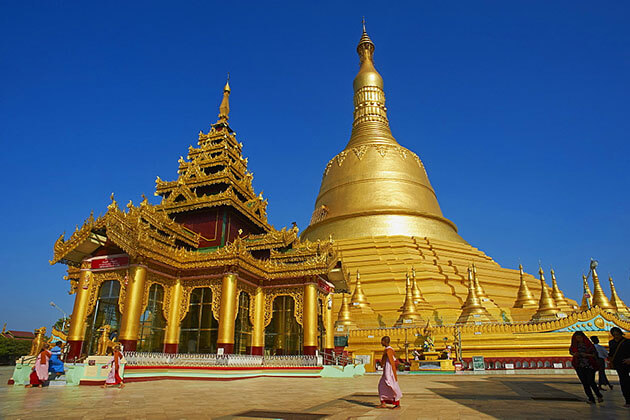 The Shewmawdaw Festival
The Shewmawdaw festival in Bago is held from 8th Tagu month (from March 25th to April 6th) within 13 days. The festival attracts so many visitors paying a trip from their Burma vacation to visit and mingle with the locals in the vibrant atmosphere and observe the worshippers from other regions throughout the country. During the festival time, the participant groups consisting of both males and females try to make their best performances to Festival Organizers. This is also a special occasion for Buddhist people to pay respect to their beliefs.
Moreover, it should be known that when going to any Buddhist places in Myanmar, it always needs to take off shoes including impolite dresses of both men and women. Of course, Shemawdaw pagoda is not an exception. There will be Sarong – a traditional costume in Myanmar for the female to wear in order to show respect to the holy place.