The weather in Yangon in November witnesses a positive variation throughout the month. This city is drenched in the sunshine and dry air as the average temperature in, Yangon in November is not too hot at 27.2 °C (80.96 °F). The maximum temperatures can reach 32 °C (89.6 °F), which is suitable for you to wander around every corner of the city. During the night time, the temperatures are generally really warm with an average low of 22.4 °C (72.3 °F).
Daylight levels are expected to have some minimal and unnoticeable changes. The shortest day has a length of 11 hours and 11 minutes, whereas the longest day is 11 hours and 29 minutes long with an average length of 11 hours 19 mins.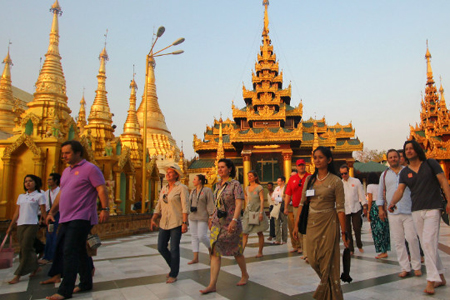 Yangon enjoys sunny heaven in September with on balance a sizable 9 hours and 01 minutes of brilliant sunshine daily. There is a positive change in the clouds as they will gradually decrease as the days pass. The sun is covered by clouds and gazes only about 2 hours and 10 minutes per day.
The most notable change of this month is precipitation as the weather in November is marginally dry with infrequent rain (only 60mm (2.4in) of waterfalls across on average 3 days). You may encounter light rains with some thunderstorm during this month. The humidity level of this month is mild.
Featuring a good weather condition, Yangon welcomes a huge number of visitors again. Booking Yangon tours early in advance is recommended as this country is going to enter a tourism season.