Have you ever thought of having a chance to taste yummy beefsteak on the street food at a surprisingly reasonable price in Yangon (Myanmar)? Yes, now you can totally do that! Gearing up your suitcase and ready for a Yangon tour package right now! The appearance of street-side beefsteak – Steak on the Street has attracted meat-aholic to come and try a "restaurant" dish in a "common people" place.
Not only the students near Yangon International School – the target customer of the beefsteak stall but also the local people and tourists are attracted by the delicious flavor and a brand-new experience with this kind of dish.
Who is the chef of Beefsteak?
The chiefs are a group of friends in which there is a guy really good at cooking beefsteak. They all have their own professional careers; however, with the passion for steak, they start-up a weekend beefsteak stall on the street named Steak on the Street as a fun business at the beginning. After that, because of the amazing development thanks to social media, the founders have taken it more seriously and hired more staff to run the stall.
Now, Steak on the Street has been expanded and moved to a more spacious location near South Okkala's City Mart; besides, the time range is from 3 pm to 10 pm to meet the demand of the customers.
Why should you try beefsteak on Yangon food street?
The mission of the business is trying to serve the customers a good-quality steak at street-food prices. Therefore, even though the serving space is not as good as a restaurant with the air-conditioner, modern infrastructure, and the stall still becomes an attractive destination for the meat lovers. Coming here, you will enjoy the open-air, street decoration such as graffiti that make you feel relaxed after a hard-working day. The delicious food together with open space will bring you a unique experience for eating steak.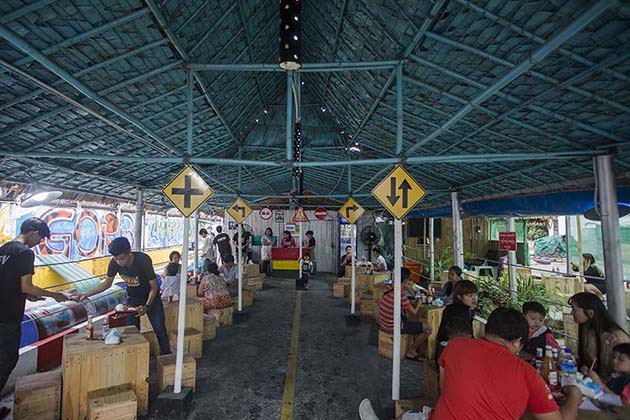 Only from 4,000 to 6,000 kyats (approximately $3 – $4.5) for each dish, this is a very reasonable price range because of the cost saving of the raw material. The meat has been bought from the local suppliers to guarantee the quality and save the cost. Besides, the steak is yummier with the sauces and additional vegetables such as potatoes, carrots, and papaya salad.
Although most of the staff are students who work part-time, they have helpful and polite manners of serving. Moreover, the owners highly appreciate the hygiene and food safety so the staff is required to wear masks, hats, and gloves. For the customers who want to take away the steak, they will be served with the food contained in single-use plastic boxes.
Trying beefsteak in an open-air space on Food Street will be a brand-new experience during your tour to Myanmar. Let's come and enjoy yummy-yummy food!