Buddhism has a great influence on the daily lives of the Burmese people. Whenever you find yourself on a Burma tour, you will discover people here live honestly, preserve national traditions, close family ties, respect the elders, adore of Buddhism and wear casual daily clothes.
The spirit of solidarity in Myanmar community is very high, whether in urban or rural areas, people treat each other politely, people rarely argue or bicker each other in public places. Families or groups of people living near the roads in urban and rural areas often give the jar of clean water beside the road for a complimentary to the guest, regard it as a form of giving.
Abide the law is the beauty of social life in Myanmar. Hunting birds, animals or arbitrarily cut trees is taboo in the life of Burmese people. Offerings are also influenced by Buddhism that is a feature of culture in this country. Violators will be condemned and sanctioned seriously by the authorities.
The Myanmar people shall not use the thing that does not belong to them. It is a beauty of lifestyle of Burmese people with the bold of Buddhist culture. The phenomenon of robbing or pilfering in public places is very little happens, of course, the offender will be legally punished. With a good lifestyle, the phenomenon of divorce adultery in society is less likely to occur. Myanmar people are very afraid and ashamed of adultery or having a stepchild because they would be condemned and shunned by society, community, and family.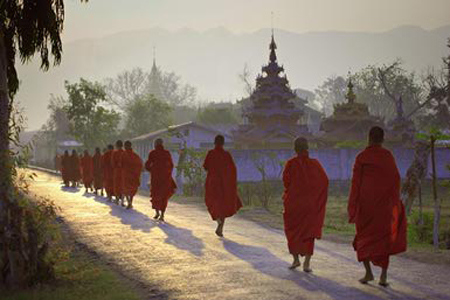 Voluntarily give alms to monks and nuns is also the traditional culture of Myanmar people. Many people, even the poor, always willing to give alms of food or money to monks or nuns and they feel very happy with the action. Foreign tourists traveling to Myanmar will be interested in witnessing the early morning, hordes of monks and nuns holding an object like a big bowl begging for alms on the streets or villages. Many people stood waiting in front of their house with a cooker and pan of food reverently scoop for each monk and nun.
Ritual of giving alms occur orderly, dignified and quietly. When the monks and nuns go through the towns or villages, salespeople give alms to one or more monks and nuns depending on their abilities.
Although the daily life is not wealthy, many people in Myanmar, from urban to rural areas, kind-hearted give a little part of food in the house to give "alms" for wildlife animals such as birds, squirrels, dogs, cats… The markets in Myanmar often have stalls selling panicles of rice for buyers to feed the birds. Tourists when visiting Myanmar feel surprising and exciting when seeing the city Yangon and other cities of Myanmar have a wide variety of birds, squirrels live in herds and dogs playing in the streets. They are very playful and friendly with people.