Myanmar is so well endowed with a diversity of species, and a variety of natural resources that it is an absolutely wonderful paradise for ecotourism in Myanmar. The national ecosystems are considered to be one of the biological reservoirs in Asia.
Contribute to that diversity is the existence of the elephant together with its vital significance in Myanmar culture and history. That is not all, elephants are also of major economic importance in the timber industry of Myanmar. According to the 1999-2000 report of the Union of Myanmar, There were 4.075 elephants in timber harvesting operations. Elephants are undoubtedly providing an invaluable service to the country, not merely by supporting the national economy but more importantly, by conserving the environment as it is universally accepted that animal skidding is the most environmentally friendly method of logging. Elephant skidding will continue to play a vital role in the timber operations of Myanmar Timber Enterprise (MTE) for the foreseeable future, particularly in the mountainous and swamp areas of Myanmar's forests.
Best Elephant Camp in Myanmar
Myaing Hay Wun Elephant Camp 
Myaing Hay Wun Elephant Camp, founded in 1986, is 10 acres and situated in Taikkyi Township of Yangon Division. It is within easy reach which takes only 90 minutes to drive from Yangon to Taikkyi Township.
A wide range of wildlife can be found in this camp Elephant, Guar, Banteng, Barking deer, Wild boar, Hare Wild cat, Green Peafowl, Ruddy sheld duck, Hill myna, Blossom-headed parakeet, Pheasant, Red jungle fowl, Quail, Dove, Duck, lesser tree duck, Butterflies, Moths, Snakes, Monitar lizard, Ground lizard, and Chameleon. The Elephant Camp provides visitors with a great opportunity to gain a brief insight into the nature study coincident with relaxation. Taking a trip to the camp from a Burma tour, the participants will experience a 45-minute elephant ride, which allows them to admire the wonder and serenities of natural virgin forest. The environs would be particularly memorable. Tourists can also see the bathing of the elephants with their mahouts. The elephants here are well-treated and also have medical treatment for their health.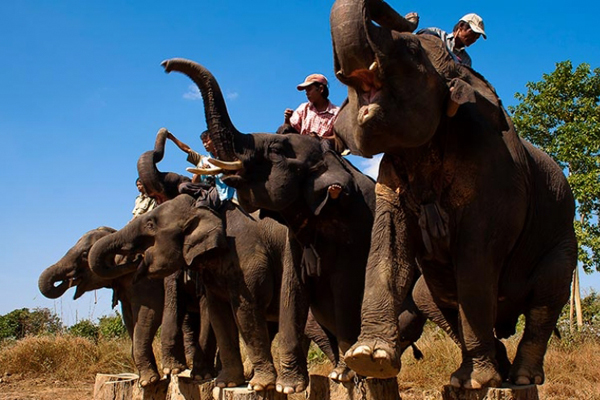 Pho Kyar Forest Resort
Located in Yedashe Township of Thargara is Pho Kyar Forest Resort which covers an area of 10 miles 2 furlong from Thargara. The resort has a total of 20 acres in area, which makes it larger than Myaing Hay Wun Elephant Camp. Situated ideally in the area of Swa forest reserve area, on the bank of Thaing creek, this can be reached from Yangon. To get to Pho Kyar Resort from Thargarathe one has to drive 10 miles all seasons. Like many other forest resorts, it gives tourists great opportunities to get an insight into natural forest plants such as different species of hardwood, large forests teak wood, and various other valuable forest plants with different life span: bamboos, cane, and different flora. The tour operator arranges elephant rides for both short trips and long trips. Bathing and washing elephants can also be viewed.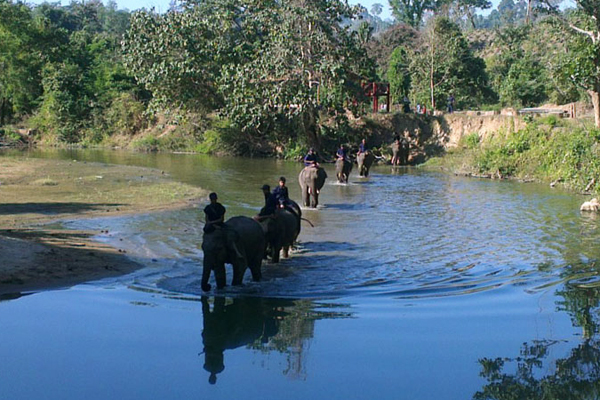 Tips for Visiting Elephant Camp in Myanmar
In an attempt to maintain sustainable ecotourism in Myanmar, there is no elephant riding in Myanmar elephant camp
If you love to bath for the elephant, bring extra clothes as you will expect to get wet
It is quite hot in Myanmar, so, to protect your skin from UV, sun cream and sunglasses are necessary for you.