The national emblem of Myanmar has a circular pattern consists of a wheel with 14 teeth and map Mianmataij in a central location, surrounded the circle by yellow rice ears. The wheel represents for the industry; 14 teeth represent for 14 administrative divisions of Myanmar; table diagram showing the shape of the Myanmar border; yellow rice ears symbolize Myanmar that is a country with rice agriculture. Both sides have two yellow holy lions guarding.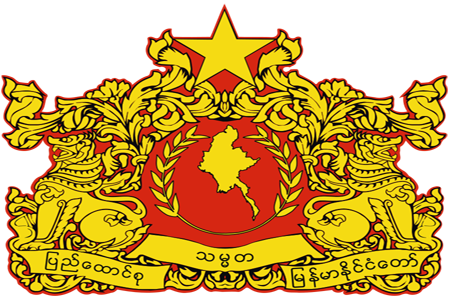 Myanmar national religion is Buddhism. In Buddhism, the holy lion is a symbol of goodness, even as the incarnation of the god of protection, symbolically protecting the country. On the central top of the emblem is the five-pointed star, symbolizing the protection of nation and defense of the homeland.
Below the emblem is decorative yellow tripe with the words "Republic of the Union of Myanmar" in the Burmese language. National Emblem was prepared in conjunction with the national flag in 1974 with inscription in the bottom strip of the decorative emblem is "The Socialist Republic of the Union of Burma". On May 5, 1989, it was renamed "Union of Myanmar". On November 22th, 2010, it was changed to "Republic of the Union of Myanmar".