There are a lot of people not preferring visiting Myanmar in the rainy season (from May to September) due to the fear of getting wet when they step outsides. However, you may change your opinion thanks to dozens of unique sceneries that you can only explore in Myanmar rainy season.
Moreover, there are three big advantages you will certainly acquire when visiting Myanmar this season. Firstly, it is not the "rush hour" time in Burma tourism so that you will not be stuck at the tourist crowds and noise. Secondly, the wonderful weather also a satisfactory factor that convinces you to visit Myanmar in the rainy season. It is not either too hot or too cold so that you can enjoy the landscapes in the best feeling. Finally, most of the services such as flights, hotels, and foods are cheaper than those in the peak season; therefore, you can enjoy the same services at lower costs.
Now, let's discover the unique sceneries that you should not miss in Myanmar rainy season (low travel season)!
Bagan
Being the heart of Myanmar, Bagan is located in Mandalay region and is famous for 10,000 pagodas, temples and monasteries. This land also attracts thousands of tourists with magnificent and fabulous beauty when being immersed in the sunrise on the foggy mountains or traveling by hot air balloons to see Bagan from another view.
However, the weather in Bagan is very sunny, hot and muggy most of the time, except for the rainy season when the dust is wiped away to bring about the most comfortable atmosphere. Taking Bagan tours this time, the fresh air and pure sceneries appear after a heavy shower will offer you a uniquely brand-new view in Bagan.
You can easily reach this beautiful land by bus – the most popular transportation to Bagan at about $30; besides, car and train are also very convenient for the tourists. Most of the hotels will give you discounts at this time; do not forget to check their website and receive the advantageous offers.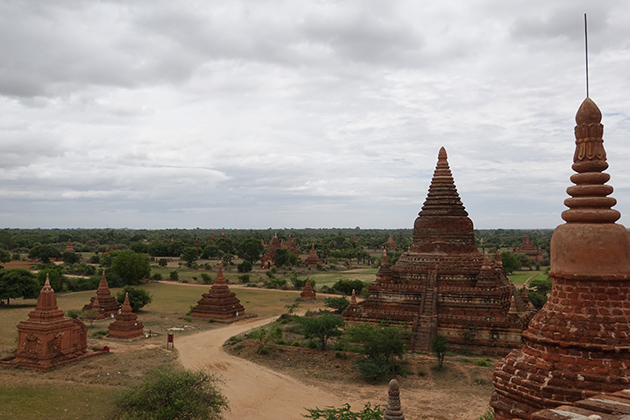 Pyin Oo Lwin
This hill town, also known as May Myoe, is located near Mandalay. Pyin Oo Lwin is beautifully covered by blooming flowers and greenish trees in the rainy season – the perfect time to go sightseeing and explore this town. Escaping from the hot weather in Mandalay, you can enjoy the coolness and visit the colonial-era houses and train stations. Moreover, do not forget to wander in the biggest botanical garden in Myanmar which is insides National Kandawgyi Park or take wonderful photos by the majestic waterfalls such as Anisakan, Pwe Kauk, Nat Kyone, Yay Pyan Taung, etc.
It takes you about eight hours from Yangon to reach Pyin Oo Lwin by car or train.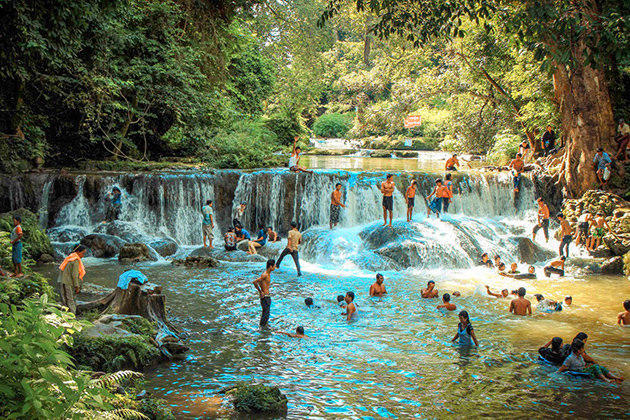 Inle Lake
Being one of the not-to-miss destinations for any Myanmar trips, Inle Lake is attractive with peaceful floating villages and gardens. However, it is still hot in the dry season even being surrounded by the mountains. As a result, you are suggested to visit Inle Lake in the rainy one to row the boats along the lake, seeing the unique image of fishermen who can row the wooden boats by one leg and be deep in the comfortable temperature.
The remarkable land can be easily reached by bus, car or train. Thanks to its tourist attractiveness, the Myanmar government has improved the roads to make it more convenient to visit Inle Lake. Besides, you can fly from Yangon to Heho, then take a taxi to Nyaung Shwe where the lake is located.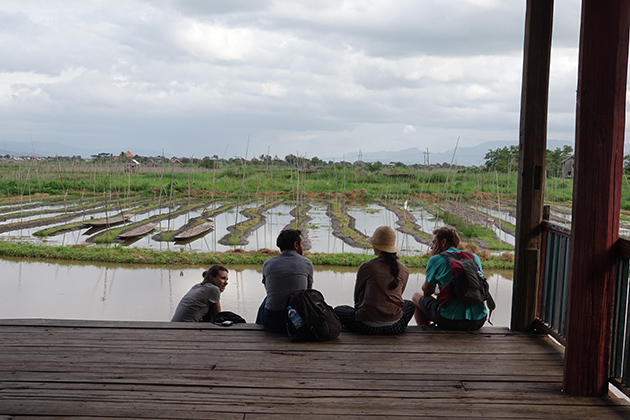 Kalaw
Kalaw is an old hill station near Inle Lake. Similar to Pyin Oo Lwin, this town has an ancient beauty with colonial buildings along floral streets. There will be no better time to visit Kalaw than in the rainy season when you can go trekking in a refreshing climate, escaping from the bustling lifestyle in the big cities. Besides, the old town is well-known for its delicious traditional cuisine that satisfies any foodaholics.
It costs about $18 to reach Kalaw by bus from Yangon. During eight hours on a bus, you can also enjoy the tranquil scenery of local hill lives.