Mandalay, a gorgeous city, is the cultural capital of Myanmar where possesses distinctive fascination offering splendid things to do and see. Along with the rapid pace of the country's development, it has been slowly becoming Myanmar's biggest tourist destination that suggests visitors should spend at least 2 days long to experience cool and unusual things in the main tourist attractions of Mandalay. If you are not sure what to do and see in Mandalay, this article will provide you with insight guidance about Mandalay attractions to discover during your Myanmar tour.
Top 10 Best Things to Do & See in Mandalay
Cycle around Mandalay
Possessing the real charm in ancient capitals, Mandalay is a great place for visitors to explore the ruins of historical heritage. Undoubtedly, cycling is what to do immediately in Mandalay to explore the beauty as well as the excitement of the city. Mandalay bicycles are very popular in the city and the cost to get one is quite cheap, about 5000 – 15000 kyat ($3.2 – $9.36) for the whole day. Before renting, it is necessary to make sure that your bike is still in good quality to assure there are not any damages during the trip. The great number of interesting sites and value experiences when cycling in Mandalay ensures to give you a memorable vacation.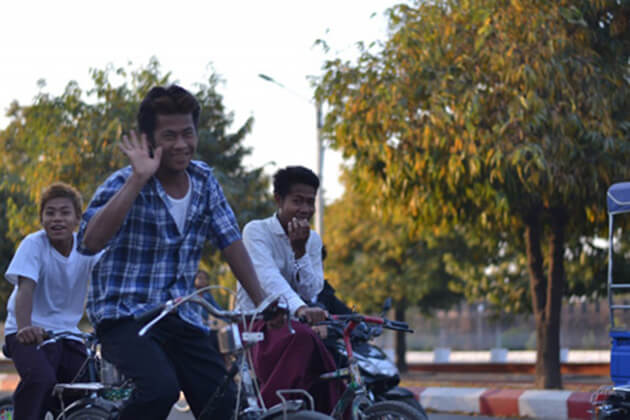 Visit a Gold Factory
Visiting a gold factory is an awesome thing to do in Mandalay since the most impressive thing attracts tourists to visit Myanmar is gold, gold is not only used for decoration on the Buddha statue, outside the temple but also many wealthy families in Myanmar often gilded to ceilings or furniture. Besides, Burmese rarely send money to the bank; they often buy gold to make offerings to the temple instead. Therefore, it is easy to understand why gold factories in Myanmar with such development.
King Galon is one of the famous and oldest gold factories in Mandalay. When you visit here, you will be watched the process of making the gold, people in King gallons are very happy and enthusiastic, so you might get people to try hammering on the raw gold below, but remember it is not an easy job. But the coolest thing is that the experience is free.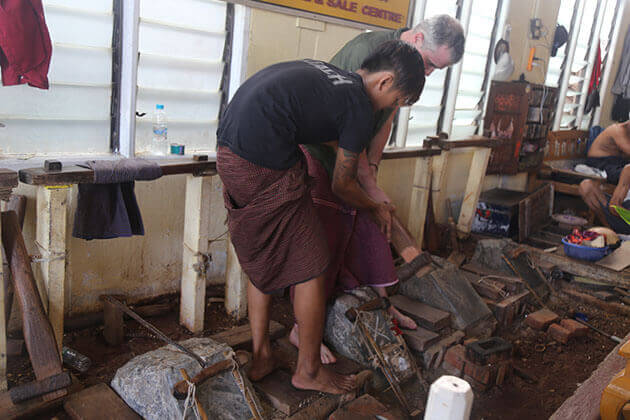 Explore Sculpture Workshop
What to do next in Mandalay is visiting the sculpture workshop. Mandalay is a city that owns a lot of the traditional craft workshops, but most notably, it comes to carving stone. You can visit Sagaing to visit the sculpture workshops. The entire area where seems to be covered with a layer of fine dust from the marble pieces. It can be easy to witness on the street that the craftsmen are polishing the sculpture of themselves. In addition, you can see craftsmen working very mature; nobody seems to use a certain kind of outline form.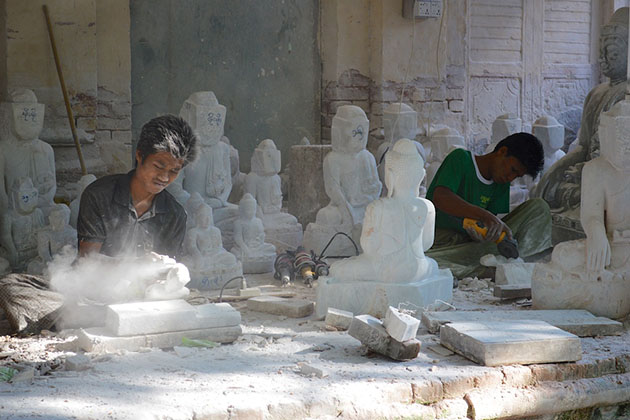 Admire Maha Muni Pagoda
Maha Muni is the holiest pagoda in Mandalay and ranked the second position only after Shwedagon Pagoda in Yangon on its popularity. The temple is very big and beautiful. With plenty of doors and corridors leading into the main area, the pagoda is truly the worth place to visit in Mandalay. Upon here, you will be extremely impressed with the large Buddha statues covered in gold with 4 meters high inside, especially in areas that only allow men to visit inside; all women are only permitted to looking at the statue from the outside. Head inside and you will feel the spiritual atmosphere, as well as people's devotion to their faith.
Recommended tour: Myanmar itinerary 7 days
Relax at the Shwenandaw Monastery
After cycling and walking through areas of Mandalay, it will be a great time to have a rest and relax in Shwenandaw Monastery – a famous monastery, built entirely of teak. It is a very interesting experience while relaxing and watching the architectural sculpture of the monastery complex outside with outside rains.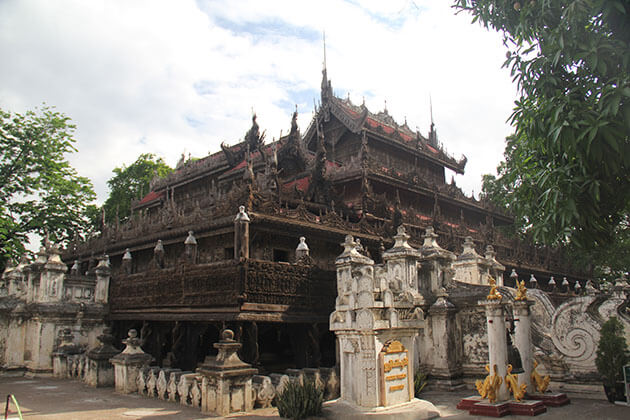 Savor Mandalay Street Foods
One of the most interesting when using a two-wheel vehicle is that you can stop wherever you want, and thus, the constant stopping to enjoy the delicious street food in Mandalay is something fantastic to do in Mandalay. Furthermore, you will be completely satisfied with a pot of tea which is served after the meal. This is one of the best things about Burmese cuisine that will make you never forget during the trip.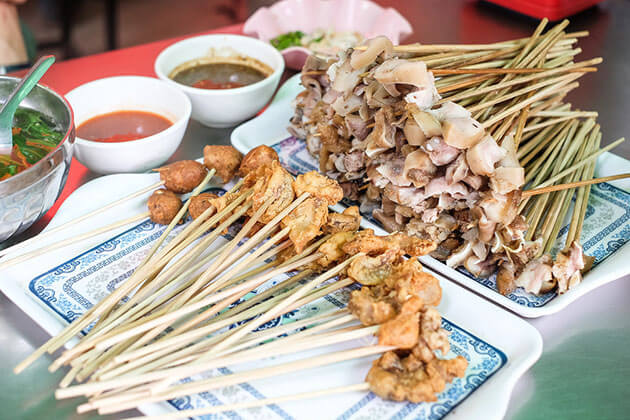 Explore Amarapura & U Bein Bridge
Amarapura previously served as the capital of Myanmar for a while. Today, this ancient capital is best known for silk products, the monastery Maha Gandhayon, Kyaung, and U Bein – the longest teak bridge in the world. So far, the bridge has not been only a place to visit in Mandalay for tourists but also the main daily road for the locals. It is said that sunset time is the most beautiful moment of the U Bein Bridge when the sun slowly goes down and hides behind the horizon, thus it offers the perfect view overlooking around to watch the majestic sunset and take awesome photos. This is a great experience that should not be missed for any visitors traveling to Mandalay.
Besides, Monastery Maha Gandhayon Kyaung is a great place to take a rest. Every day around 10 am, there will be a lot of young monks in the monastery of Maha Gandhayon Kyaung standing in line to beg for alms. This activity is quite familiar if you have been to Luang Prabang, Laos. However, each place will offer you different feelings.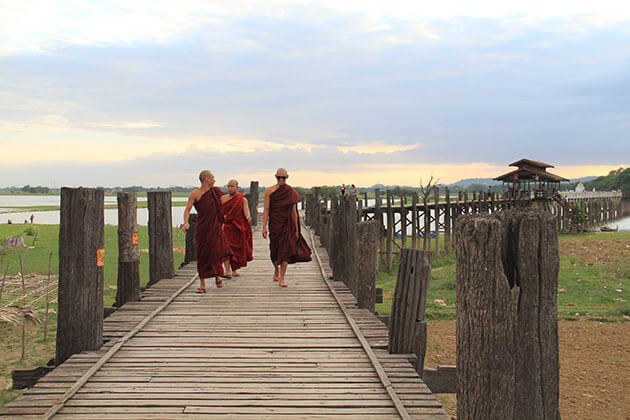 Marvel at Sagaing Hill Landscapes
Sagaing is the outer region of Mandalay that tourists have to go through the Ayeyarwady River to reach this region. With the breathtaking landscape, Sagaing Hill is worth to be listed in the list of best things to do in Mandalay. After driving 21 kilometers, the ancient capital of Myanmar will appear in front of you with myriads places to explore. Hundreds of gold, silver pagodas and monasteries dotted around will take your half-day to visit. Sagaing is well-known for its hills called Sagaing Hill – one of the main Buddhist centers in Myanmar, where are featured by 600 monasteries as well as temples, with 6,000 monks and nuns.
On the way to the top of the hill, you have to overcome a lot of small stupas and also take a lot of time, however, you will have a wonderful view from the top.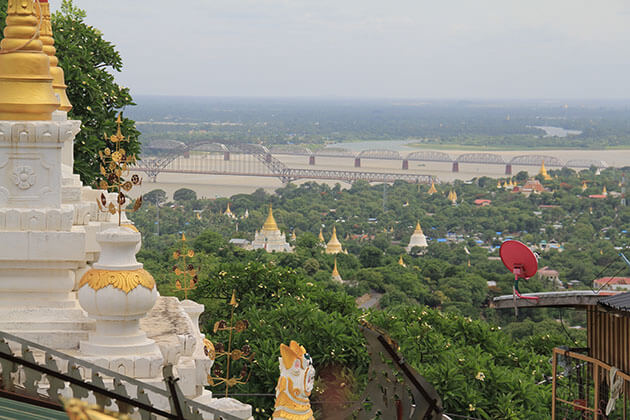 Take a Boat Trip in Inwa
Inwa, the secret Burmese capital is the next place to visit in Mandalay. Along with Amarapura and Sagaing, Inwa is one of the three most ancient cities of Myanmar that you should never miss on a trip to Mandalay. In order to get to Inwa, you have to take a boat trip from the bank of Ayeyarwady River first. The section from the waterfront to the center is pretty hard going, so most of the tourists move by carriage. Like most other ancient cities of Myanmar, you will be attracted by the majestic temple, with its unique architecture and beautiful scenery.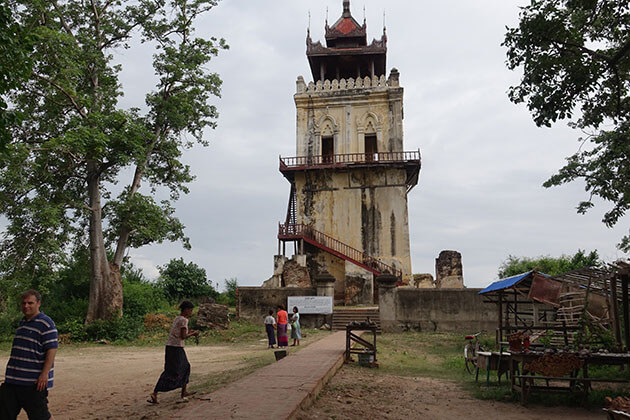 Visit the ancient village of Mingun
Last but not least, the ancient village of Mingun is another Mandalay impressive place to explore. It is approximately 11km from Mandalay to Mingun. Visitors are able to get there by land or waterway. There is only a daily ferry trip available to Mingun, which departs at 8:30 am and returns at 1:00 pm with the fee around 5000 kyats/person (about $5). In case you want to have more free time for your exploration, you can hire a private ferry instead.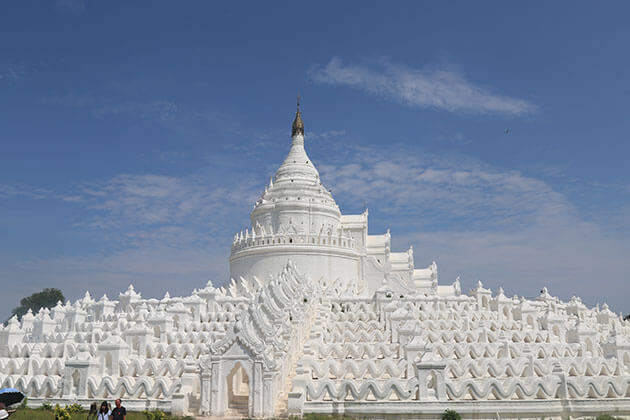 Most visitors come to Mandalay will never ignore this impressive tourist destination, because it possesses many important relics of Myanmar, especially the ruins of Mingun Pahtodawgyi – a temple of red bricks that it would have been the largest Buddhist construction built by red bricks in the world with the expected height of 150m. It was started in 1790-1797 under King Bodawpaya but due to the weakened economy, this great work has been suspended and forever left unfinished after the king died in 1813.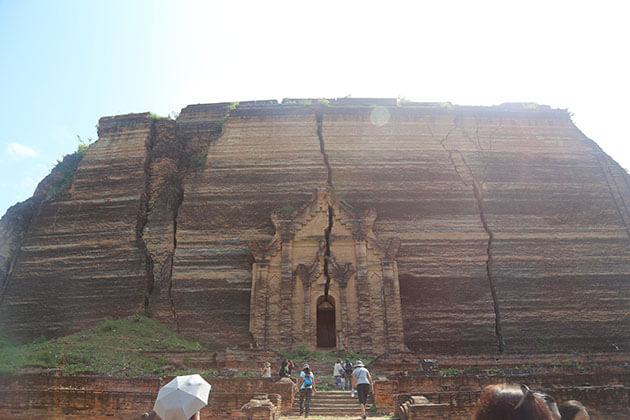 Recommended Things to Do & See in Mandalay
If you can stretch your time in Mandalay, below are stunning things that our travel specialist highlights you to experience in Mandalay tours.
Visit Mandalay Royal Palace
Being far-famed with people for a long time, Mandalay Palace deserves to be a must-visit spot that not to be missed in your trip to Mandalay. Dating back to the 19th century, this was the residence of Burmese King which is built of teak wood and gilded with gold. It has been through the ups and downs of the historical journey that still retaining the inherent elegance. Today, the palace attracts tourists all around the world with its impressive architecture with a strong fortress surrounded by a beautiful dike. In the late afternoon, the fancy beauty of Mandalay scenery reflects out of the water will truly enchant your soul.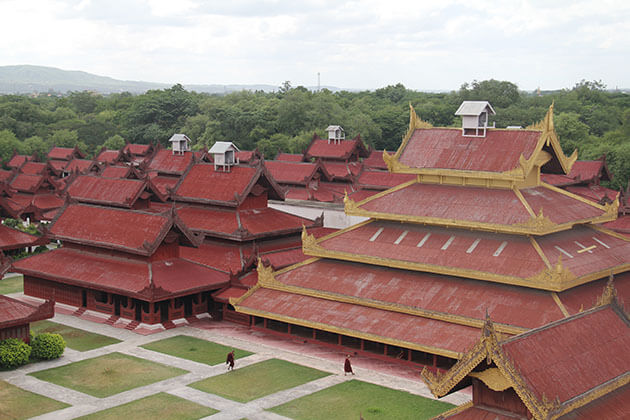 Pay a Solemn Visit To Kuthodaw Pagoda
The world's largest book in Kuthodaw Pagoda is one of the special things to witness in Mandalay. Unlike the rest of the books in the world, the special book made of 729 stones owing to the value of history and philosophies of Buddhism. Located on the slope of Mandalay Hill, the gorgeous temple attracts enormous visitors all year round to admire the massive temple complex surrounding with beautiful white stupas.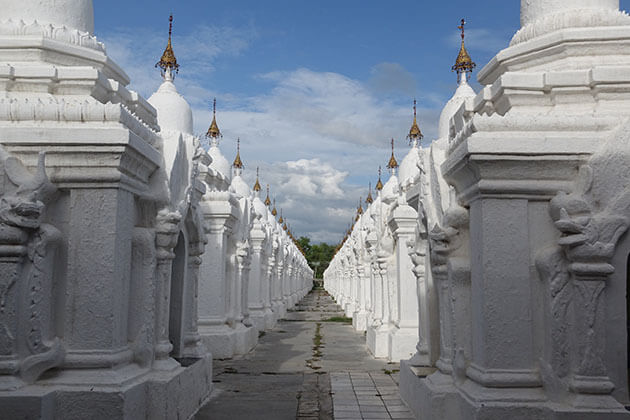 Behold Sandamuni Pagoda
Located in the southeast of Myanmar Hill nearby Kuthodaw Pagoda, Sandamuni is an interesting place to visit in Mandalay along with Kuthodaw Pagoda. Sadamuni Pagoda was built in honor of Crown Prince Kanaung, King Mindon's younger half-brother who had helped him to maintain the power from Pagan Min in 1853. Nowadays, it is one of the main tourist attractions in Mandalay and famous for the Sandamuni Buddha statue from the time of the Konbaung dynasty in 1802.