If you are planning to take a solo tour to Myanmar, finding appropriate accommodation might be one of the biggest concern. Don't worry, as a local tour operator in Myanmar, we have researched carefully top best hotels and resorts in Myanmar to stay when you travel throughout the country. Let have a look at our list of top 10 famous hotels and resorts as below.
Sanctum Inle Resort (Nyaung Shwe Township, Myanmar)
Location
It takes 90 minutes to transfer from Heho Airport by road. Another way to arrive is crossing the lake from Nyuang Shwe by boat. Sanctum Inle Resort is situated in a tranquil hill on the eastern shore, its quietness helps guests stay away from the noise of the city. Come to the resort to enjoy the luxury and tranquility.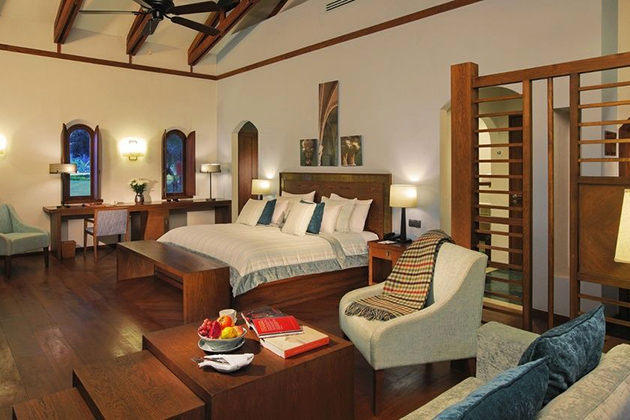 Style & character
The style has been inspired by Renaissance monastic architecture. Public areas are set around two arcaded cloisters and the bedrooms, arranged on three floors, fan out across the lawned gardens. Furniture is high quality, decorated and designed by polished Burmese teak and local fabrics. In there, as the sun begins to set, guests can enjoy amazing views across the lake from the convivial bar.
Service & facilities
Staff is friendly and their English is good. A 20-meter pool has been built into the hill to make the most of the lake views and a great spa. The concierge desk can arrange excursions including private motorized canoes to explore the stilt villages.
Facilities
• Bar
• Laundry
• Parking
• Pool
• Restaurant
• Room service
• Spa
• Wi-Fi
Rooms
There are 94 beautifully decorated rooms, which is spacious and offers a comfortable seating area. Twin rooms have two large beds; all have great sprung mattresses. Bathrooms are airy and spacious with both a deep bathtub and a separate shower.
Food & beverage
In the morning, there's a variety of fresh fruit juices, freshly-baked pastries, cold cuts, and salads. The dishes you should feast on: an herby omelet or the Mohinga noodle soup. The bar mixes a good cocktail and the wine list has a good choice from around the world. The Refectory restaurant offers local Shan cuisine and has its own organic vegetable garden. A traditional tomato and fried onion combined with fish curries. Savor the spring onion fritters dipped in tamarind sauce and the baked tofu cheesecake with mango.
Address Maing Thauk Village, Inle Lake, Nyaung Shwe Township, Myanmar (Burma).
Contact information: 00 959 252 818 800.
Belmond Governor's Residence (Yangon, Myanmar)
Location
It takes 20 minutes from Yangon Airport to the hotel, which is situated in a residential area of Yangon's traditional Embassy quarter. Even better, guest can reach the famous Shwedagon Pagoda from the hotel by foot. It is also quite close to the National Museum, and the exuberant Bogyoke Market. It just 10 minutes' drive to visit the downtown commercial and entertainment districts.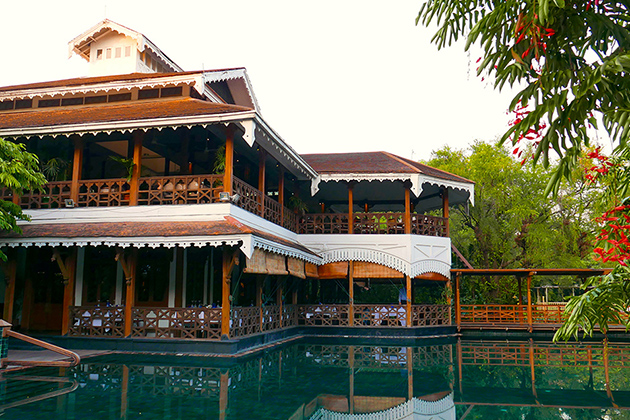 Style & character
Belmond Governor's Residence is the luxury hotel in Yangon, with colonial-style mansion which dates from the 1920s. A verdant garden dotted with lotus pools in the hotel is perfect to relax after a long day spent exploring the majestic Buddhist shrine of Shwedagon Pagoda. The 49 bedrooms are top-notch, arranged in two-storey buildings in the large garden: polished teak floors, spacious bathrooms, and white linen.
Service & facilities
The Belmond Governor's Residence has Boutique and Gift Shop, which has from beautiful hand-crafted art to stylish fashions made using local fabrics. Also, you'll find many souvenirs perfect for friends and family. It is great for you indulging in the fan-shaped swimming pool, or simply relax and take in the atmosphere while you lounge on the comfortable sunbeds.
• Restaurant
• Bar/lounge
• Free use of bicycles
• Limo/town car service
• Spa services
• Pool
• Business center
• 24-hour front desk
• Daily housekeeping
• WiFi
Rooms There are 49 smoke-free guestrooms, including 45 Deluxe Rooms and two Junior Suites, all splendidly decorated with tropical cotton and silks, teak furniture and bath.
Food & beverage
Breakfast is a wide selection of dishes from around the world. Guests will savor Mohinga, the traditional Burmese breakfast of fish noodle soup. At lunch, the hotel offers the most delicious dishes such as Myanmar trilogy, Mandalay salad or tacos are complemented with coriander, onion, lime, and charred red sauce.
Address: 35 Taw Win Road, Dagon Township, Yangon
Contact information: 00 95 1 229 860
The Strand Yangon (Yangon, Myanmar)
Location
Situated in the center of downtown Yangon. This is one of the best hotels to stay in Yangon tour packages. The area is captivating and filled with mosques, pagodas, churches, with fascinating architecture and mysterious street culture. You can safely explore it early in the morning before breakfast and at night. The minus point is that it is a little bit far from the airport.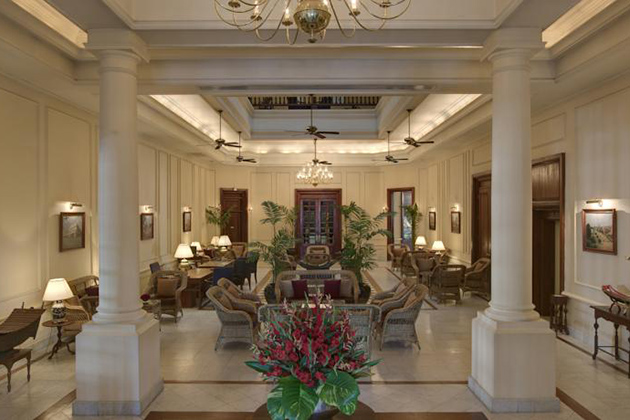 Style & character
The style reminds guests of a bygone era. The Strand Yangon has been exceptionally refurbished – there's no kitsch, no bling, no vulgar sense of a stage-set. That Burmese music in the air is human, not piped. The rattan chairs, the lacquerware, the ceiling fans, and the polished wood are enthralling.
Service & facilities
The grace and warmth of the staff in Strand Yangon will mesmerize guests. You need never use your key: someone will leap forward and do it for you ("too heavy to carry", they say gallantly. Nonetheless, the hotel does not offer swimming-pool, spa or fitness center. If you would like to pamper yourself with a massage at the moment, the hotel has a small 'spa suite' with proper massage beds.
• Bar
• Laundry
• Restaurant
• Room service
• Wi-Fi
Rooms
The 31 suites are huge with beautifully tiled bathrooms, walk-in dressing-rooms. Even better, the 24-hour butler can serve you complimentary coffee and tea all day and night extremely in loll-worthy sofas and comfortable beds.
Food & beverage
It is suggested that guests The Strand Café, which famed for its afternoon tea and serves all-day dining. Otherwise, Sarkies Bar at The Strand serves a wide range of alcoholic beverages. At breakfast, the Café serves two of the most delicious dishes you can feast on to start your day in Myanmar: Mohinga, a fish noodle soup, and ohn no khao swe, a coconut-flavored soup with chopped-up chicken on the side. Highly recommended.
Address The Strand Yangon, 92 Strand Road, Yangon, Myanmar.
Contact information: 00 95 1 243 377.
The Hotel @ Tharabar Gate (Bagan, Myanmar)
Location
It just takes a 15-minute drive from the airport. Slap bang in the center of Old Bagan, besides the old city walls and a five-minute walk from the Ananda Temple – the place of worship for Buddhism.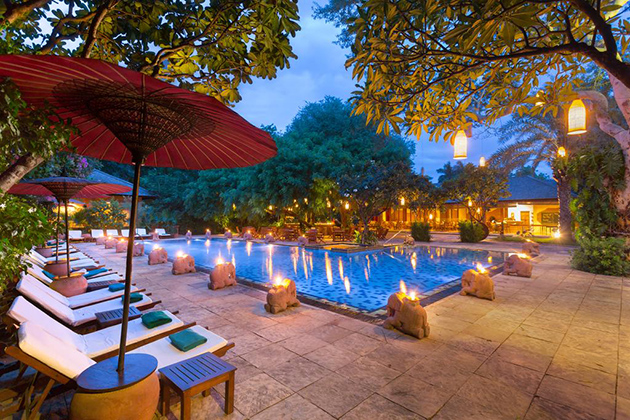 Style & character
There are 80 rooms hidden among the planting, which includes fragrant frangipani bushes. At night, the pool and outdoor dining area are beautifully lit.
Service & facilities
The speed of service has been improved, attention to detail. Bicycle rental is free. The concierge desk assists clients in arranging horse-cart rides, dawn balloon rides over the temples, and sunset boat trips on the Ayeyarwady River. In addition, spa treatment rooms focus on messages using local products.
• Bar
• Laundry
• Parking
• Pool
• Restaurant
• Room service
• Spa
• Wi-Fi
Rooms
Except for four one-bedroom complemented with private terraces, all the rooms are similar: a sitting area, capacious and decorated with high A-frame ceilings. There's a choice of super-king or twin beds. Bedside, reading lights are equipped. Some rooms have bathtubs but most only have wet rooms.
Food & beverage
Guests often gather around the terrace bar with a variety of stools. The drinks menu is a variety of fresh juices, wines, and beer. Meals are served on the terrace and in the dining room. The menu is a good combination of local and international. It is highly recommended that guests should savor the pennywort salad (a local specialty) before enjoying a classic Burmese chicken curry. In the morning, guests can feast on seasonal fruit pastries, toast, Bircher muesli and coffee. Besides, the hotel serves a Mohinga (rice noodle soup) and congee (a sort of porridge).
Address: 05000 Bagan, Old Bagan, Nyaung Oo Township, Mandalay Division, Old Bagan, Myanmar.
Contact information: 00 95 61 60037
Hotel by the Red Canal Mandalay, Myanmar
Location
Located on next to a small canal in a typical residential street. It just takes 20-minute to walk to Mandalay Palace, Shwenandaw Monastery, a clutch of good local eateries and the puppet theatre on 28th Street.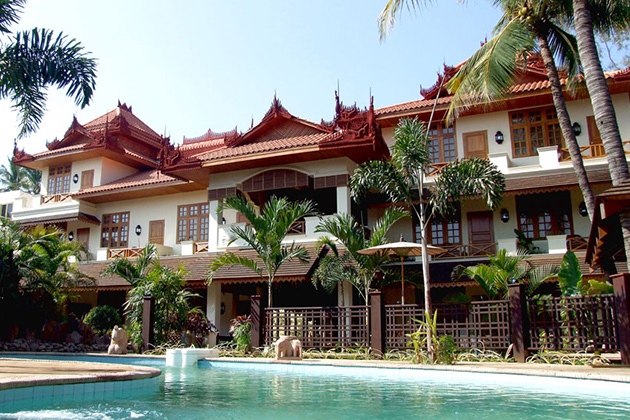 Style & character
Entering the hotel by the Red Canal associates with walking into the world with well-chosen art, carved teak furniture, and mother-of-pearl inlay work display the skill of local artisans. Thought has been put into the outdoor lighting to create an enchanting glow after dark. It's a convivial place and easy to fall into conversation with fellow guests over the complimentary afternoon tea on the balcony.
Service & facilities
Most of the staff speak English good and willing to serve. The sub-tropical garden includes a pool, spa treatment room, and terrace where offers cocktails and snacks
• Bar
• Fitness center
• Laundry
• Pool
• Restaurant
• Room service
• Spa
• Wi-Fi
Food & beverage
The Spice Garden restaurant occupies a distinct two-storey teak and glass building. At breakfast, the hotel offers all the usual international dishes for Chinese, Western, and Indian tastes including decent coffee and juices. In the evening, Burmese, Chinese, and other international dishes are served.
Address: 417 Corner of 63rd & 22nd Streets, 05000 Mandalay, Myanmar.
Contact: 00 95 2 61 177
Savoy Hotel (Yangon, Myanmar)
Location
It takes 20 minutes to the International Airport. From Savoy Hotel to the Shwedagon Pagoda is within a 15-minute walk, which is best visited at dawn.
Style & character
The Captain's Bar is a lively place, often full of expats downing imported beers. The best luxury boutique hotel in Yangon.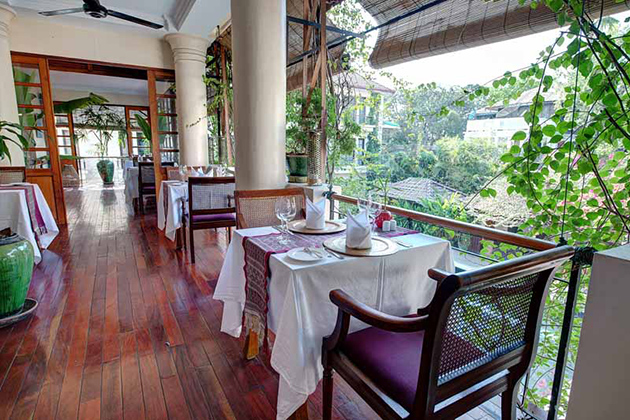 Service & facilities
Reception staff is very helpful.
• 24-hour front desk
• Limousine service
• Laundry- and shoe shine service
• Pool
• Weekly live music
• Live sports events on a wide screen television
• Photo-and art exhibitions of young Burma
Rooms
All 30 deluxe rooms including 6 suites express the charm of "the old days" with traditional Myanmar antiques, teak furnishings, and stone-flagged bathrooms.
Food & beverage
Traditional European bistro dishes and international bistro dishes and wines made from local ingredients are served at The Bistrot. Located right by the pool guests have the chance to dine inside or out on the pool deck whilst enjoying the tranquillity of the oasis-like atmosphere the pool courtyard offers. In the evening, Friendship Restaurant has an outdoor terrace where offer Burmese/Chinese dishes. Wednesday is burger day at the Savoy Hotel, guests can enjoy the best burger with Tuborg beer.
Address: 129 Dhammazedi Road, Dagon Township, Yangon
Contact: 00 95 1 526 289
Inle Princess Resort (Nyaungshwe, Myanmar)
Location
Inle Princess Resort is the most luxurious and quiet place to stay in Inle Lake, which is within 50 driving minutes from Heho. Airport, or 1 hour by car and boat. It is worthwhile if you want to enjoy the Lake Front View Chalets.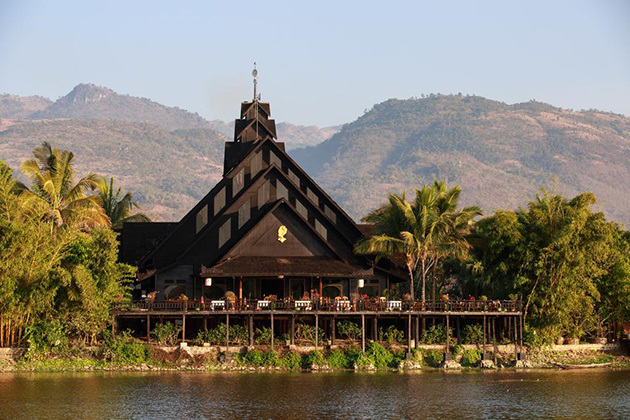 Style & character
Inle Princess Resort is decorated and lit with lanterns made from locally made paper. The resort was built by local craftsmen, lined with sheets of woven bamboo and furnished with Burmese textiles.
Service & facilities
The service is excellent; their spa has three large treatment rooms with countryside views.
• Restaurant and bar/lounge
• Outdoor pool
• Sauna
• Spa services
• 24-hour front desk
• Air conditioning
• Daily housekeeping
• Garden
• Library
• Self-serve laundry
• WiFi
• Free parking
Rooms
There are 36 very spacious wooden chalets with a strong ecological ethos, so the rooms have fans rather than air-conditioning.
Food & beverage
The hotel offers dining experiences, such as wine tasting and learning to cook Inthar meals and unique private dining evenings. The guest can savor the old dishes of the Pa'O, the Inthar, the Danu or the Taungyoe in an authentic style and setting. Also, they serve a wide range of wine from Inle's wine producer, Red Mountain Estate, the vineyard is situated in the hills away 5.1 kilometers from the east of the hotel.
Address: Magziyin Village, Inle Lake
Contact: 00 95 81 209 055.
Mandalay Hill Resort Hotel
Location
It just takes the transfer from Mandalay Airport, Mandalay Hill Resort Hotel is the best of the large five-star hotels in this Chinese-dominated city. It located at the beautifully landscaped gardens at the bottom of Mandalay Hill. It is convenient for guests to ascend to the pagodas on Mandalay Hill in their Mandalay tour to gaze over the sunset.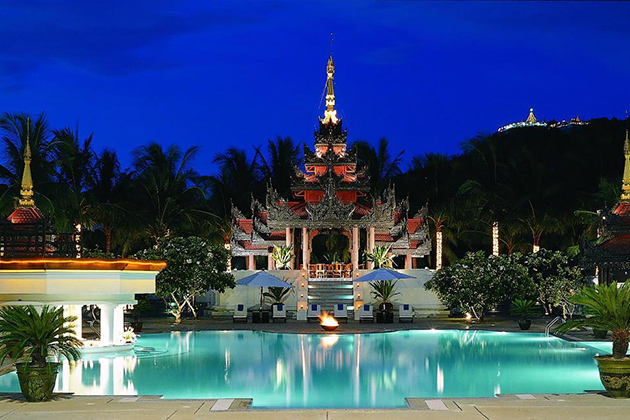 Style & character
The hotel is decorated in international style. Guests can a room on the sixth floor for the magnificent views of the walled Royal Palace
Service & facilities
The Mandalay Hill Resort Hotel is mesmerized by nice staff and full amenities.
• Spa
• Complimentary breakfast
• Fitness center
• Pool
• Car service
• Gift shop
• Laundry service
• 24 Hour Front Desk
• Free Wi-Fi
Rooms
There are 206 guestrooms and suites. From each room, guests can gaze over at spectacular views of Mandalay Hill, the Royal Palace, the breathtaking Irrawaddy River and the city of Mandalay, once the Royal Capital of Myanmar. Its disadvantage is that lifts are tiny and slow for people using them to move from floor to floor
Food & beverage
The food is extremely good for a large hotel, especially barbecue dinners. The hotel offers a complimentary cold or hot buffet breakfast each morning between 5 AM and 10 AM. In Mandalay Hill Resort Hotel, Yadanabon Cafe is the only buffet restaurant serves breakfast, lunch, and dinner.
Address: No 9 Kwin, 10th Street, Mandalay Hill
Contact information: 00 95 2 35638
ViewPoint Lodge & Fine Cuisines (Nyaung Shwe, Myanmar)
Location
ViewPoint Lodge & Fine Cuisines can be reached at five-minutes on foot from the boat hire dock. It is located between a canal and a small lake. An interesting local produce market and the mansion of the former Shan royal family, now a museum, is within 20-minutes walk and an hour to reach The Red Mountain winery on the bicycle.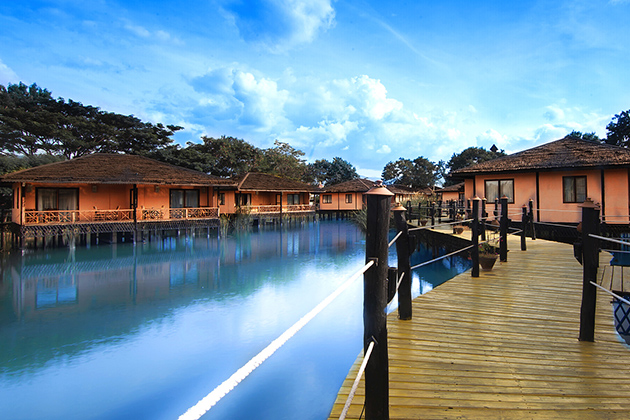 Style & character
The 24 cottages are set up on a clean lake and make visitors feel relax in the peace corner to stay away from the bustling streets. Each one is built in traditional Shan style and has a deck view of the river. The Shan Restaurant is the best place to eat in town, attracting a mix of older backpackers and weekenders from Yangon.
Service & facilities
Service is quite good. Many staff have experienced and are supervised by a French general manager to ensure satisfy the clients. Besides, the lodge offers bicycles rental services and the lodge will arrange tailored gourmet picnics and a homemade Inthar lunch.
• Bar
• Laundry
• Restaurant
• Room service
• Wi-Fi
Rooms
The cottages are using local limestone, rice straw and mud, which creates insulation. The bed is comfortable, make your vacation perfect.
Food & beverage
In the main restaurant, the menu mainly focuses on Shan cuisine, including a vegetable broth and head fish curry. The Shan 'tapas' (one type of salad), is the perfect mixture of pork with pumpkin dumplings tofu fritters, tamarind sauce, and lake shrimp. Also, the coconut noodle soup is savory. The scrumptious breakfast is served on the deck of your room or in the dining room.
Address: Taik Nan Bridge & Nyaung Shwe Canal, 11101 Nyaung Shwe, Myanmar.
Contact information: 00 95 81 209 062
Bagan Thiripyitsaya Sanctuary Resort (Bagan, Myanmar)
Location
Bagan Thiripyitsaya Sanctuary Resort is within a five-minute drive from Old Bagan, a historical core and it takes 15 minutes from the boat dock in Nyaung Oo. Its lawns stretch to the Ayeyarwady River.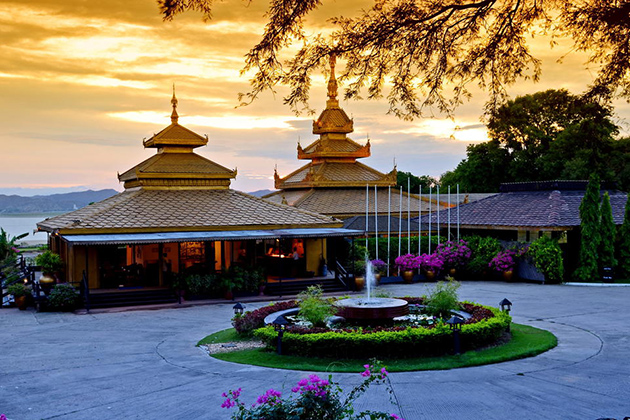 Style & character
Originally built as a government guest house, a Japanese investment company in 1996 took over it and expanded. The wrap-around river views are a wow factor. The colonial-style bungalow is the main style of the resort. At dusk, guests were amazed by the terrace – gaze over sunset over the hills from the river.
Service & facilities
Friendly and willing staff are the bonus point for the resort. There is a 25-meter pool and the spa has quite good deep tissue massages. Besides, you can get a first-hand look at the work of local artisans are displayed in the large shop. The disadvantage is Wi-Fi is slow the rooms but strong in the reception desk.
• Bar
• Laundry
• Pool
• Restaurant
• Room service
• Spa
• Wi-Fi
Rooms
It is highly recommended that the guests book the Deluxe Garden Rooms. There are 4 rooms in each with its own verandah and sun loungers. The bedroom is equipped with essentials including hairdryer, wardrobe, kettle and comfortable beds. The clean bathrooms are the minus point because of their outdated (shower curtains above the baths).
Food & beverage
The coffee is very weak so stick to tea. The bar serves well-mixed cocktails and good fruit smoothies. The breakfast is an international buffet with a variety of Asian and British classics, well-executed pastries and fresh fruit. Soups are delicious, especially the bottle gourd hot and sour soup and the pea soup. Fried river butterfish is scrumptious.
Address: Bagan Archaeological Zon, Bagan Nyaung Oo، 11182, Myanmar (Burma).
Contact information: 00 95 1 255 333